THIS MONTHS TOP SELLING PRODUCTS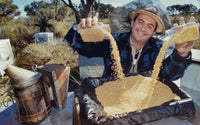 "How do you know it's from the hive if you don't know the beekeeper ?"
Founder and proud owner Phil Sammut, has enjoyed beekeeping for over 40 years. With a wealth of knowledge and skills, together with passion and hard work he has built a successful business, providing honey bee products sought after by many local customers and International tourists from all over the world.
Location
WINDARRA HONEY
5 George Street
West Swan, Western Australia.
Mon - Sun 9:00am - 5:30pm
T: (08) 9250 6030