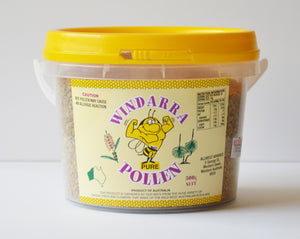 Windarra's pollen is collected by our bees from a vast range of Western Australian trees and native wild flowers. The pristine and unique flora of WA contributes to array of yellow pigment and the wonderful taste and texture. Before the bees enter the hive, the surplus pollen is gently removed into a collection tray. It is then cleaned, dried, eye graded before hand packing and stored in the freezer (to keep crisp and fresh).
DIRECTIONS: We suggest if you have not consumed bee pollen before, that you start by placing 1 or 2 grains under your tongue to be certain you're not allergic. From there if you don't experience any reaction you can proceed to slowly increase the dose by a few grains each day, until your reach the maximum 1 teaspoon suggested daily intake.  Pollen can be eaten on its own or sprinkled on you breakfast cereals and yoghurt etc. Whizz it up in a smoothie or incorporated in home-made protein bars or raw desserts. 
SIZE: 500g NETT PLASTIC TUB WITH HANDLE
INGREDIENTS: 100% PURE BEE POLLEN
STORE: IN FRIDGE OR FREEZER TO KEEP FRESH AND CRISP
Caution: In rare cases, an allergic reaction to pollen may be experienced by some people. If irritation, swelling of the mouth or skin occurs discontinue use.
Please email us on hello@windarrahoney.com if you have any questions prior to ordering.