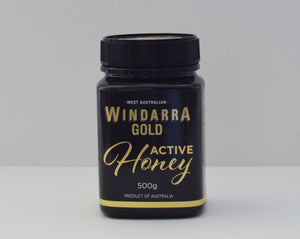 HONEY VARIETY : REDGUM
TREE TYPE: EUCALYPTUS 
ACTIVITY: 35+ 
TEST RESULT: TA39
WEIGHT: 500g NETT
PACKAGING: PLASTIC TAMPER EVIDENT JAR
SERVING SUGGESTIONS: 1 TEASPOON DAILY
STORE: IN PANTRY OR AT ROOM TEMPERATURE AWAY FROM DIRECT SUNLIGHT.
*Sugars naturally occur in honey, we do not add or take anything out of our raw, unprocessed bee honey. If the temperature drops below 14 degrees raw honey may crystallise, this is a natural and uncontrollable occurrence.
Please email us on hello@windarrahoney.com if you have any questions prior to ordering.