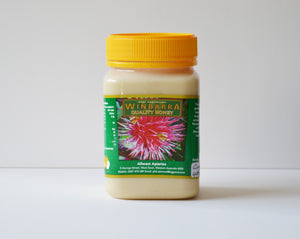 FLAVOUR: HONEY WITH ORGANIC COFFEE
- Honey variety used may change depending on season, you may taste a slight difference depending on the honey variety we choose to use for each batch made.
WARNING: This product contains caffeine.
WEIGHT: 400g NETT
PACKAGING: PLASTIC TAMPER EVIDENT JAR
STORE: IN REFRIGERATOR, OR ROOM TEMPERATURE ON COOLER DAYS.
Please email us on hello@windarrahoney.com if you have any questions prior to ordering.