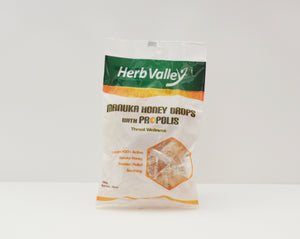 A soothing lozenge with Menthol, Manuka honey & bee propolis.
For a stuffy head or dry throat
Pleasant honey taste
No artificial colours, flavours and preservatives
Cautions & Warnings:
Propolis may cause allergic reactions. If irritation or swelling of the mouth occurs, discontinue use. Store below 30ºC in a dry place away from sunlight.
Information:
A soothing lozenge with a pleasant honey taste containing New Zealand Manuka honey, delicious menthol and bee propolis. This unique combination promotes general wellbeing and may assist in reducing discomfort in the mouth or throat.
Pleasant to take when your head is stuffy or your throat is dry.
Herb Valley was established in Adelaide, South Australia, in 1985 by a group of individuals who passionately believed in the value of traditional remedies for the maintenance of a healthy and active lifestyle. Herb Valley products are all Australian Made.