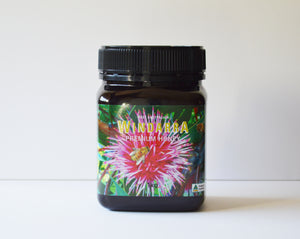 Windarra's Premium honey range has been naturally harvested from our bee hives located around Western Australia in the pristine native forests and bushland.  We take great pride in providing the highest quality and only offer natural, unprocessed raw honey. We move our bees chasing the the flowers to offer a range of honey varieties including rare varieties such as Jarrah and Karri only found in pockets of Western Australia. To identify the different varieties of honey we use the names after the species of tree the bee has gathered the nectar from, the honey does vary in colour, thickness and flavour.
HONEY VARIETY : REDGUM
TREE TYPE: EUCALYPTUS 
WEIGHT: 1 Kg NETT
PACKAGING: PLASTIC JAR WITH TAMPER EVIDENT LID
STORE: AT ROOM TEMPERATURE 
*Sugars naturally occurs in honey, we do not add or take anything out of our raw, unprocessed bee honey. If the temperature drops below 14 degrees raw honey may crystallise, this is natural and uncontrollable occurrence.
Please email us on hello@windarrahoney.com if you have any questions prior to ordering.